Welcome to the Fairfield Ford of PA Collision Center and Auto Repair Shop. 
If you have had an accident and need an auto body shop, contact us today.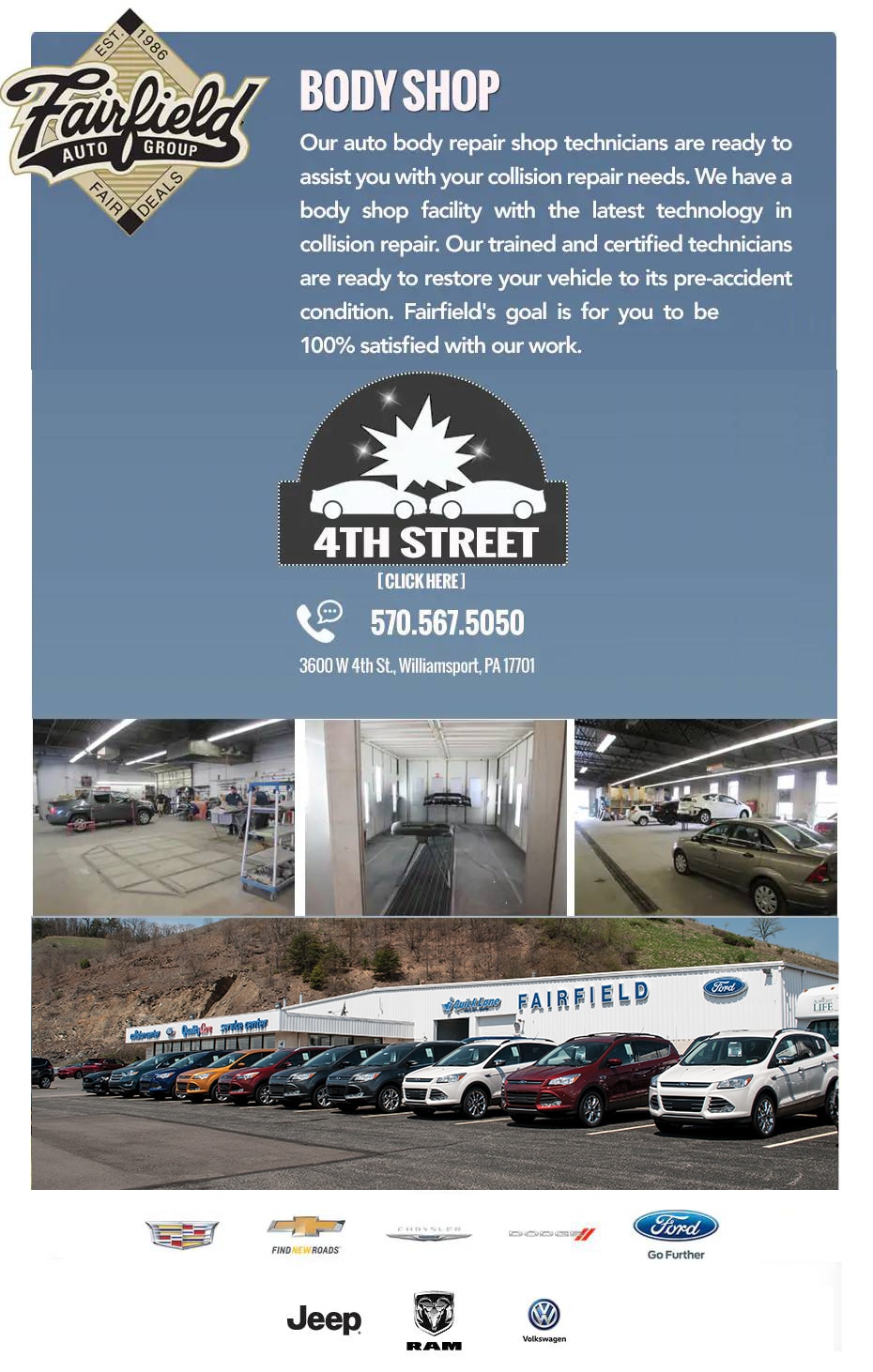 Fairfield Ford Body Shop and Collision Center
Fairfield Ford Body Shop and Collision center repairs cars, pickups or SUVs that have been in minor fender benders or more serious collisions near Montoursville, Pennsylvania. Our Ford auto repair shop is conveniently located at 5071 Lycoming Mall Dr. Montoursville, PA.
Our highly skilled and professional team of Ford certified auto body shop technicians are ready and waiting to perform the auto collision repair services you need to get you and your vehicle back on the road promptly. 
Repair Services include: Body Panel, Frame, Suspension and Alignment damage.  In addition, we can Replace Glass and Mechanical Components damaged in a collision.
Body Shop Repairs All Makes and Models
No matter what brand of vehicle you drive, know that we service and repair all makes. Repairing damage from a front- or rear-end collision, fender-bender or sideswipe is a piece of cake for our collision staff!
Get Your Car Repaired After Collision Damage near Montoursville, PA
The Ford body shop of Fairfield serves Montoursville, PA and the surrounding areas, with a wide variety of collision repair services. We specialize in professional auto body repair and vehicle painting and restoration services.
Our state-of-the-art Ford body shop utilizes computerized laser measuring and body realignment technologies to bring your car, SUV or pickup truck back to looking like new, so make your way over from Montoursville today!